Urban features makes alignment meeting
O Urban Traces Movement held alignment meeting at the Museum of Santa Catarina School (MESC) on Wednesday. The movement that stirred the month of November continues with activities in December!!
The meeting provided an assessment of the actions taken and reflections on the next steps. The schedule for the Floripa summer will be displayed on 15 December in the MESC 19 horas! You are our special guest to enter this movement! Everything is being designed to engage you in this action! #vemparaostraçosurbanos #VIAnostraçosurbanos
Urban Traces
The movement, started by a group of architects, wins adherence of people with diverse backgrounds and now has a multidisciplinary team. Shares of Urban Traces were based on discussions of urban interventions and rehabilitation of public spaces! Over the months, workshops were held, with panel discussions named "Urban Spaces" exposing the completion of course work Florianópolis Architecture schools. Also a panel was allocated with international practices, in several countries, focusing on urban intervention.
Watch our EXCLUSIVE video and enjoy visiting Floripa History Center!
Another action taken by the Movement was the Workshop Our Street that promoted the integration and collaboration of professionals from different areas to think the Historical Center. In the end, the workshop had six proposals! VIA is finalizing an exclusive ebook with the results, so stay tuned! 🙂
Check out the six initial proposals that dealt with bohemian circuit, public gardens, school integration, graphite, housing and social layer:
Cinema was also one of the focuses of Traços Urbanos. In the Museum of Escola Catarinense, a compilation of the most important documentaries in the area of ​​urban intervention was shown! After the film, The participants were able to discuss and reflect on the theme based on the world events and what we want for our Floripanópolis! What do you think? Want to watch the compilation? Contact us and we'll help! 🙂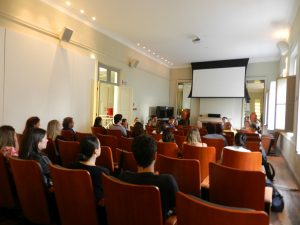 It is worth following the Facebook page of the movement! https://www.facebook.com/movimentotracosurbanos/
Get in touch and do not miss the TRAÇOS URBANOS MOVEMENT!
The following two tabs change content below.
Equipe de pesquisadores com foco na transformação do conhecimento de forma tangível e utilitária para a sociedade, governo e empreendedores, through education, research and extension. Atuamos de forma colaborativa e em rede, conectando pessoas e organizações ao nosso propósito.
Latest posts by VIA Estação Conhecimento (see all)