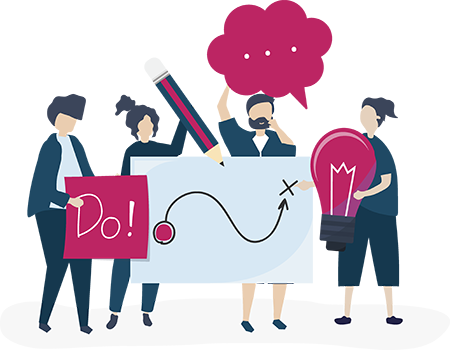 METODOLOGIAS PARA APRENDIZAGEM
VIA`s methodologies for learning are associated with the formation of educators and qualification of children, youngsters and adults with a focus on innovation and entrepreneurship, through practices and tools such as gamification, problem solving, workshops and courses.
Faculty formation based on innovation techniques
The VIA group holds a methodology for knowledge sharing and faculty formation. Based on innovation processes, with the support of innovative tools, the group trains educators on different concepts and practices, having as a final action the planning of academic projects, or even, lesson plans for real implementation.
Training of over 300 educators over 2017 and 2018 on the themes "smart cities" and "innovative cities", on the Continuous Education Center (CEC) of the Municipal Secretary of Education of Florianópolis` City Hall, approaching subjects ranging from the appropriation and further development of the main concepts to the elaboration of activity plans and utilization of teaching resources, with the goal of turning them into multipliers in schools.
Formação de gestores de habitats de inovação
Atuando em conjunto com a coordenadoria de estágio do curso de Engenharia de Materiais, ao longo dos anos, tem-se realizado ações que buscam otimizar a busca de estágio, mapeando laboratórios, empresas nacionais e internacionais. O objetivo principal tem sido melhorar a jornada discente de atuação profissional.
Juntamento com os alunos de graduação da turma de Engenharia e Gestão do Conhecimento foi desenvolvido um conjunto de ferramentas para o estudo e aplicação da ISO 30401, Knowledge management systems —Requirements. As ferramentas tiveram o foco no contexto da organização, necessidades e expectativas dos stakeholders, cultura de gestão do conhecimento e auditoria interna.

Gamification for innovation learning
Gamification means to use game mechanics in order to increase motivation, concentration and other positive attitudes commonly associated with games, but not in a non-game context. The VIA methodology addresses the stages which: define the concept that the game will be based on literature, idealize the game by incorporating an internal validation cycle, and prototype its final design , also based on a validation cycle.