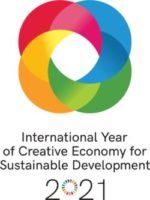 100% online and free event
I International Conference on
Creative Territories for Sustainable Development
This year was declared as the International Year of Creative Economy for Sustainable Development, led by the UN in a group of 82 countries. To celebrate and encourage the creative and sustainable urban development, the group VIA Estação Conhecimento linked to the Knowledge Engineering Department of the Federal University of Santa Catarina and UrbsNova - Distrito C's manager – Creative District in Porto Alegre (RS), have the honor to announce the I International Conference on Creative Territories for Sustainable Development.
What is a Creative Territory?
A creative territory is a place that has experienced a radical change in its image and appearance and has incorporated a particular aesthetic. As a result, the place began to operate as a foundation for a dynamic urban environment that inspires creativity and involvement of citizens who circulate and live there. In the meantime, creative territories combine and connect the creative businesses, like artists, galleries, architects, designers, antique dealers, etc, that together build a true ecosystem to value urban identity. Therefore, creative territories can be associated with aesthetic and economic aspects. In practice, however, it is expected to combine both contents in different degrees and extents. A territory is never a single and isolated "place". It can be a sector of the city, such as a set of blocks or one and more neighborhoods, conceiving a Creative District. It can be the whole city, as long as it is articulated, and then it would be a Creative City. Finally, it can also be a Creative Region, once it brings together and integrates several nearby cities.
Do you wish to share your experience at the event?
Do you have an immersive or interactive workshop to register in the event schedule?
Do you wish to submit your paper to the Creative Territories for Sustainable Development book, to be launched at the event?
UNCTAD dá as boas-vindas ao Ano Internacional da Economia Criativa.
Experiências de Territórios Criativos
Série de encontros que antecedem o Encontro Internacional de Territórios Criativos para o Desenvolvimento Sustentável