Materials Engineering students visit Sapiens Park
Students of the discipline of Engineering and the Graduate Knowledge Management in Materials Engineering at UFSC, ministrada pela professora Clarissa Stefani Teixeira, They were received by the management of Sapiens Park, in technical site visit held on 22 de novembro de 2016.
The expansion plans for 2017 and ongoing activities in Sapiens were presented by the Executive Manager, Carolina Menegazzo. Na sequência, students met business entities and research installed in the enterprise, a partir do Inovalab. Another point of visitation was the project of the first self-powered boat solar energy in Brazil, developed by UFSC.
The visit ended with walking on River Trail Bráz.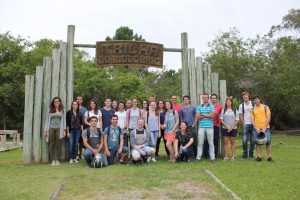 Check the record on video:
The following two tabs change content below.
Equipe de pesquisadores com foco na transformação do conhecimento de forma tangível e utilitária para a sociedade, governo e empreendedores, through education, research and extension. Atuamos de forma colaborativa e em rede, conectando pessoas e organizações ao nosso propósito.
Latest posts by VIA Estação Conhecimento (see all)