Preparation VIA Cycle Smart Cities and Social Innovation
VIA made a meeting on 11 November event for the strategic alignment CYCLE ROUTE Smart Cities and Social Innovation in Sapiens Park!
The meeting was conducted by members of the VIA Ágatha Depine and Vanessa Eutheriou on the workshop which will be developed on 17 November at Sapiens Park 9 às 18 horas.
He Ágatha puts concepts sore smart cities, and workshop methodology. He spoke of social innovation and the importance of structuring the team to the slopes of the size of smart cities.
Following Vanessa presented the processes of Design Thinking: a way of thinking to solve problems that we insert in the workshop process for us to succeed in the idea, highlights.
Assumes up on Thursday there will be the following dynamics
Fast talk about intelligent cities
on-site knowledge of places around the Sapiens
Knowledge and interaction with the community
Knowledge and interaction with stakeholders on the surrounding sapiens
Fill the empathy map (define person)
Do a brainstorming focused on potential problems for the ability to create real solutions
Refine central idea and list possible investments
Define solutions and share the idea with groups
A Global Entrepreneurship Network You will be responsible for taking the demands of quadruple helix (government, academy, businesses and community), harvested in the workshop, for the new management of Florianópolis.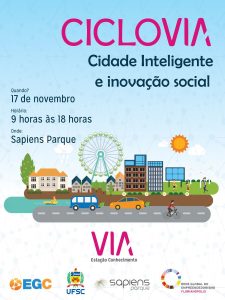 The following two tabs change content below.
Equipe de pesquisadores com foco na transformação do conhecimento de forma tangível e utilitária para a sociedade, governo e empreendedores, through education, research and extension. Atuamos de forma colaborativa e em rede, conectando pessoas e organizações ao nosso propósito.
Latest posts by VIA Estação Conhecimento (see all)