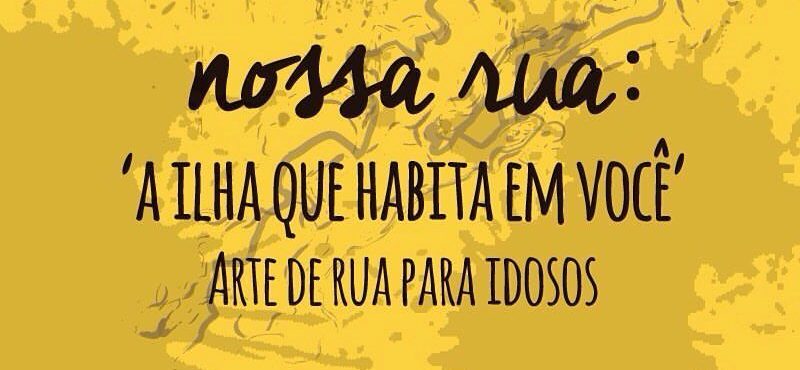 "Our Street": Movimento Traços Urbanos realiza oficina de arte neste final de semana
O Urban Traces Movement foi fundado por um grupo de arquitetos com o objetivo de desenvolver ações coletivas para qualificar espaços públicos de Florianópolis com foco na melhoria da cultura urbana da cidade e da qualidade de vida de seus habitantes. Pouco tempo depois de iniciar suas atividades em 2016, por meio de oficinas e reuniões do grupo, passou a agregar pessoas e profissionais de diferentes áreas interessadas em contribuir com a iniciativa. Em seu manifesto, declara alicerçar-se justamente no potencial de contribuição voluntária dos seus integrantes multidisciplinares, possibilitando assim a participação de qualquer indivíduo.
His first actions have been aimed at the revitalization of the historic city center,,pt,specifically in the area east of Praça XV,,pt,which also occur frequently group meetings,,pt,Due to the increase of volunteers engaged in the movement,,pt,This was divided into different working groups,,pt,trusteeship,,pt,Art and Graffiti,,pt,Lectures and Discussions,,pt,Offices,,es,Cinema and Mockup and Urban Spaces,,pt,Each group has its own schedule of activities and projects,,pt,but in constant connection with others and with partners or supporting institutions,,pt,No Saturday,,es,the Art and Graffiti Group will hold its first workshop,,pt,with the theme,,pt,"The Island That Dwells in You",,pt,The focus of the workshop is the elderly,,pt, especificamente na área leste da Praça XV – dubbed Creative District, onde também ocorrem com frequência os encontros do grupo. Devido ao aumento de voluntários engajados no movimento, este se dividiu em diferentes grupos de trabalho: Curadoria, communication, Arte e Grafite, Calçadas, Palestras e Debates, Oficinas, Turismo, Cinema e Maquete e Espaços Urbanos. Cada grupo possui agenda própria de atividades e projetos, mas em constante conexão com os demais e também com instituições parceiras ou apoiadoras.
No próximo sábado, 29 de abril, o Grupo Arte e Grafite realizará sua primeira oficina, com o tema: "A Ilha que Habita em Você". O foco da oficina é o idoso, in order to provoke and record the memory that this has the place where you live,,pt,then allowing a historical,,pt,The art created by the participants will be expressed in a craft paper panel with use of gouache,,pt,under the guidance of members of the movement plastic artists,,pt,The materials will be available on site,,pt,To participate or sign an elderly,,pt,over sixty years,,pt,just visit the,,pt,movement of the site,,pt,and attend on Saturday,,pt,the,,de,in Victor Meirelles Street,,pt,in front of Kibelândia,,pt,The next movement of the shares will be,,pt,Cultural walk through the historic center,,pt,and Cultural Walk through the Historic Center,,pt,LINK DO EVENTO NO FB,,en,www.facebook.com/events/297483754018258/,,en, possibilitando então um resgate histórico. A arte criada pelos participantes será expressa em um painel de papel craft com uso de tinta guache, sob orientação de artistas plásticos integrantes do movimento. Os materiais estarão disponíveis no local.
Para participar ou inscrever um idoso (acima de sessenta anos) basta acessar o site do movimento e comparecer no sábado, das 09 às 12h, na Rua Victor Meirelles, em frente à Kibelândia. As próximas ações do movimento serão: Caminhada Cultural pelo Centro Histórico (06/05) e Caminhada Cultural pelo Centro Histórico (13/05).
PARA SABER MAIS
LINK DO EVENTO NO FB: https://www.facebook.com/events/297483754018258/
EBOOK: http://via.ufsc.br/download-refletindo-sobre-a-cidade/
BLOG: http://via.ufsc.br/5367-2/, http://via.ufsc.br/tracos-urbanos-faz-reuniao-de-alinhamento/, http://via.ufsc.br/via-conexao-tracos-urbanos/
*By Ágatha Depiné - Master and PhD in Engineering and Knowledge Management of the Graduate Program in Engineering and Knowledge Management UFSC,pt. agathadepine@gmail.com
The following two tabs change content below.
Equipe de pesquisadores com foco na transformação do conhecimento de forma tangível e utilitária para a sociedade, governo e empreendedores, through education, research and extension. Atuamos de forma colaborativa e em rede, conectando pessoas e organizações ao nosso propósito.
Latest posts by VIA Estação Conhecimento (see all)