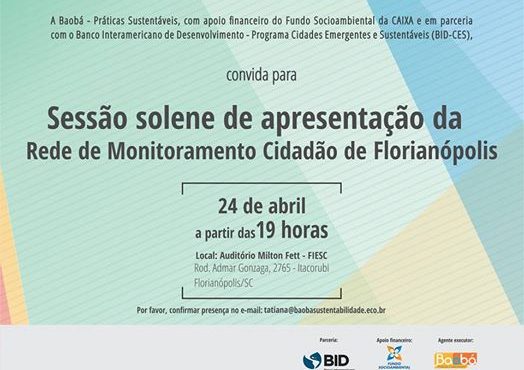 Floripa will have a Citizen Monitoring Network
Florianópolis integra as cinco cidades no Brasil que terá a formação de uma rede de monitoramento cidadão!
A iniciativa conta com o apoio de diversas entidades como a nosssa universidade e faz parte do Programa Cidades Emergentes e Sustentáveis of the Interamerican Development Bank (BID), com o apoio financeiro do Fundo Socioambiental da CAIXA (FSA/CAIXA) e tem a Baobá – Práticas Sustentáveis como agência executora do projeto.
Veja o vídeo de como foi em Goiânia :
A rede de monitoramento cidadão de Florianópolis tem como propósito acompanhar o andamento de temas que impactam diretamente na qualidade de vida dos cidadãos. Também tem como objetivo fortalecer a cultura de transparência e participação, and promote qualified public debate,,pt,the Constitution of the General Meeting will take place on,,pt,in FIESC headquarters,,pt,Confirm your presence by e-mail,,pt,tatiana@baobasustentabi,,en,lidade.eco.br,,pt,The priority indicators are those set out in the Action Plan and Sustainable Florianópolis will be assessed from the defined strategies and guidelines it,,pt,Fernando Penedo,,en,national coordinator of the project in Baobab - Sustainable Practices,,pt,It states that the initiative will encourage social participation and strengthening democracy,,pt,"With the formation and operation of the monitoring network,,pt, so that foster efficiency in public administration and encourage the channeling of public and private resources to priority sectors,,pt,promoting sustainable development of the city,,pt,the workshop launch of the network will be held on,,pt,The Constitution of the General Meeting will take place at 14h in FIESC headquarters,,pt,Auditorium Milton Fett - Rod,,pt,– Itacorubi,,en,Florianópolis - SC,,pt,and the solemn session presentation to society to,,pt,at the same place,,pt,Both events will be attended by civil society organizations,,pt,private initiative,,es,media and academia,,pt,To carry out the monitoring work of the city's issues,,pt, promovendo o desenvolvimento sustentável da cidade.
in Florianopolis, a Assembleia Geral de Constituição ocorrerá no dia 24 de abril, às 14h, na sede da FIESC (Auditório Milton Fett – Rod. Admar Gonzaga, nº 2765 – Itacorubi, Florianópolis – SC), e a sessão solene de apresentação para a sociedade às 19 horas, no mesmo local. Os dois eventos contarão com a participação de organizações da sociedade civil, iniciativa privada, meios de comunicação e academia.
Confirme sua presença pelo e-mail tatiana@baobasustentabilidade.eco.br.
Para realizar o trabalho de acompanhamento dos temas da cidade, Monitoring the Network will work with a list of,,pt,indicators distributed in different areas such as security,,pt,competitiveness of the economy,,pt,urban inequality and land use,,pt,The priority indicators are those set out in,,pt,Sustainable Action Plan Florianópolis,,pt,and will be assessed from the defined strategies and guidelines it,,pt 137 indicadores distribuídos em diferentes áreas como segurança, energia, mobility, competitividade da economia, desigualdade urbana e uso do solo. Os indicadores prioritários são os que constam no Plano de Ação Florianópolis Sustentável e serão avaliados a partir das estratégias e diretrizes definidas nele.
Fernando Penedo, coordenador nacional do projeto na Baobá – Práticas Sustentáveis, afirma que a iniciativa estimulará a participação social e o fortalecimento da democracia. Para ele, "com a formação e operação da rede de monitoramento, citizens gain reliable data generated from technical analysis on issues of urban sustainability and can observe what is being done in building a sustainable city ",,pt,Fernando explains that "the proposition ideas,,pt,actions and projects for the future of the city from the civil society is as important as the observation of the evolution of indicators in the city ",,pt,The implementation of the national monitoring networks is part of the program Emerging Sustainable Cities and the Inter-American Development Bank,,pt,Márcia Casseb,,pt,Senior Specialist in Urban and Sanitation Development and coordinator of the CES Program in Brazil,,pt.
Fernando ainda explica que "a proposição de ideias, ações e projetos para o futuro do município a partir da sociedade civil é tão importante quanto a observação da evolução dos indicadores na cidade". A implementação das redes de monitoramento cidadão faz parte do Programa Cidades Emergentes e Sustentáveis do Banco Interamericano de Desenvolvimento (BID). Para Márcia Casseb, Especialista Sênior em Desenvolvimento Urbano e Saneamento e coordenadora do Programa CES no Brasil, the establishment of monitoring networks is a fundamental step for the evolution and consolidation of the country program,,pt,"We seek to build an organic process,,pt,collective,,pt,and that added up to the movements of efforts already undertaken in the cities of the Program,,pt,From the monitoring networks,,pt,we hope to take advantage of the efforts made during the phases of the program that culminated in the launch of the Action Plan and contribute to strengthening transparency culture,,pt,of citizen participation,,pt,qualified public debate and accounts rendering in Brazilian cities ",,pt,Roberto Barros Barreto,,pt,Director of Government Services BOX,,pt. "Buscamos construir um processo orgânico, coletivo, e que se somasse aos esforços de movimentos já empreendidos nas cidades do Programa. A partir das redes de monitoramento, esperamos aproveitar o esforço empreendido durante as fases do Programa que culminaram no lançamento do Plano de Ação e contribuir para o fortalecimento uma cultura de transparência, de participação dos cidadãos, debate público qualificado e de rendição de contas nas cidades brasileiras". Para Roberto Barros Barreto, Diretor de Serviços de Governo da CAIXA, the partner of CAIXA with the IDB in the ETUC reaffirms the commitment of CAIXA as public bank aimed at promoting citizenship and sustainable development of the country,,pt,"The citizen monitoring networks aim to provide citizen participation,,pt,through representatives of organized civil society,,pt,monitoring of urban sustainability indicators in the cities benefited from the program Emerging Sustainable Cities and,,pt,THESE,,fr,seeks to encourage the construction of citizenship and greater transparency in municipal management ",,pt,The CES methodology was established in,,pt,and focused on medium-sized cities and accelerated growth in Latin America and the Caribbean and,,pt,until now,,pt,It has been performed in,,pt,mainland cities,,pt. "As redes de monitoramento cidadão objetivam proporcionar a participação do cidadão, por meio de representantes da sociedade civil organizada, no monitoramento de indicadores de sustentabilidade urbana nas cidades beneficiadas com o Programa Cidades Emergentes e Sustentáveis – CES. Thereby, busca-se incentivar a construção da cidadania e uma maior transparência na gestão municipal".
A metodologia CES foi criada em 2010 e focada em cidades médias e de crescimento acelerado na América Latina e Caribe e, até o presente momento, já foi executada em 71 cidades do continente. In addition to Florianópolis,,pt,four other Brazilian cities headquarter citizen monitoring networks,,pt,João Pessoa,,pt,Palmas,,en,TO,,en,and Victoria,,pt,with financial support from the Environmental Fund Case,,pt,On or BID,,es,The Inter-American Development Bank's mission is to improve lives,,pt,IDB is a major long-term funding sources for economic development,,pt,social and institutional Latin America and the Caribbean,,pt,The Bank also conducts cutting-edge research projects and provides policy advice,,pt,technical assistance and training to public and private clients throughout the region,,pt,About Environmental Fund CASH,,pt, outras quatro capitais brasileiras sediam as redes de monitoramento cidadão: Goiânia (GO), João Pessoa (PB), Palmas (TO) e Vitória (ES), com apoio financeiro do Fundo Socioambiental da Caixa.
Sobre o BID
O Banco Interamericano de Desenvolvimento tem como missão melhorar vidas. founded in 1959, o BID é uma das principais fontes de financiamento de longo prazo para o desenvolvimento econômico, social e institucional da América Latina e o Caribe. O BID também realiza projetos de pesquisa de vanguarda e oferece assessoria sobre políticas, assistência técnica e capacitação a clientes públicos e privados em toda a região.
Sobre o Fundo Socioambiental CAIXA
As a strategic partner of the Brazilian state in supporting the reduction of government actions poverty and combating social exclusion CAIXA created the Environmental Fund,,pt,FSA CAIXA,,en,to financially support projects, and social and environmental actions,,pt,primarily to support the population and low income,,pt,Among the projects supported by the FSA CASH highlights the application of the CES methodology in João Pessoa cities,,pt,Vitoria and Florianopolis,,pt,result of a partnership with the Inter-American Development Bank,,pt,The FSA also supports the implementation of the Citizen Monitoring Network,,pt,To access the Florianópolis Action Plan Sustainable,,pt – FSA CAIXA, em 2010, para apoiar financeiramente projetos e ações de caráter social e ambiental, prioritariamente no apoio à população e baixa renda. Dentre os projetos apoiados pelo FSA CAIXA destaca-se a aplicação da metodologia CES nas cidades de João Pessoa, Palmas, Vitoria e Florianópolis, resultado de parceria com o Banco Interamericano de Desenvolvimento (BID). O FSA também apoia a implantação das Redes de Monitoramento Cidadão.
Para acessar o Plano de Ação Florianópolis Sustentável, acesse:
http://www.iadb.org/pt/noticias/comunicados-de- imprensa/2015-06-24/florianopolis-sustentavel,11185.html
The following two tabs change content below.
Equipe de pesquisadores com foco na transformação do conhecimento de forma tangível e utilitária para a sociedade, governo e empreendedores, through education, research and extension. Atuamos de forma colaborativa e em rede, conectando pessoas e organizações ao nosso propósito.
Latest posts by VIA Estação Conhecimento (see all)