public spaces qualification in Florianopolis
A quality of urban life It depends on the key role of the attributes of public spaces and the enhancement of capacity of its environmental elements. Urban revitalization, urban sustainability and urban regeneration are key factors to give a new meaning to a space.
A Urban revitalization It can be defined as a cluster of steps and actions that occur in order to apply a new value given area, to enable this new efficiency and a new sense in its use, so that re-use may be an urban renewal tool.
Seeking to qualify public spaces Florianópolis, o Urban Traces Movement, promotes through actions developed by multidisciplinary members, the improvement of the urban culture of the city and well-being of its inhabitants. To have a demonstration effect of what had to be deployed or changed in environmental and urban city landscape, Movement highlighted by a mapping examples of public spaces in Florianópolis that perhaps undergone transformations implemented the revitalization and restoration of the site.
Vale a pena conferir aqui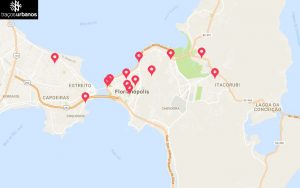 Manifesto do Urban Traces Movement
This movement is based on voluntary contribution potential of its multidisciplinary members, through professional specificity and through the action of each citizen, being open for participation to all. Collaboratively, these citizens, concerned with urban issues, structure themselves parting from proposals that consider the characteristic of a certain location, for a more human city.
The first movement of the practices were directed to the center of Florianópolis, specifically for the area east of Praça XV – dubbed Creative District – involving its historic surroundings. With innovative methodologies, the group conducts periodic actions such as events, oficinas, training and projects, promoting the connection between actors from different segments.
The group has support from several institutions, considering the formation of new partnerships on the basis of projects being designed and developed. From this collaboration aims to converge the results of the proposals reached in order to make them feasible.
Follow the movement for facebook
The following two tabs change content below.
Equipe de pesquisadores com foco na transformação do conhecimento de forma tangível e utilitária para a sociedade, governo e empreendedores, through education, research and extension. Atuamos de forma colaborativa e em rede, conectando pessoas e organizações ao nosso propósito.
Latest posts by VIA Estação Conhecimento (see all)