INNOVATION HABITATS | ENTREPRENEURSHIP | INNOVATION
VIA magazine is an online institutional publication that diffuses themes related to innovation habitats, innovation and entrepreneurship, coming from the studies done by the VIA group, associated with the Federal University of Santa Catarina.
The publication of semestral periodicity is centered around a specific theme in every edition. Integrally produced by the research group, VIA Magazine publishes studies, innovation cases, interviews with professionals and other modalities of text, all of which form a hybrid with the journalistic elements and the scientific publications.
With this format, the intent of the publication is to disseminate with conciseness, reference and credibility the information and knowledge that can contribute to the development of existing innovative ecosystems.
The VIA research team works on the investigation, integration and sharing of knowledge on habitats such as parks, incubators, collaboration networks and ecosystems. By interdisciplinary vocation, there is an interest for the questions that interfere in the development of innovation habitats, starting with policies and legislatures in science, technology and innovation, innovative entrepreneurship , the exponential organizations and intellectual property.
Quick read:
1) To access a specific text, go to the summary and click on the title. You'll be directed to the desired page.
2) Completed references of the published articles are directed to the original documents, with links in the highlighted notes.
3) When available online , the publications that the magazine is based on can be accessed by the highlight notes. Just click and download.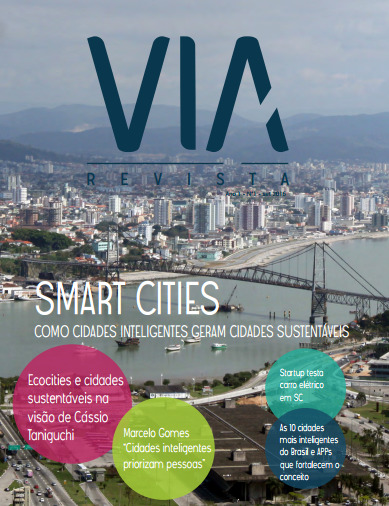 Smart Cities: Como cidades inteligentes geram cidades sustentáveis.
Year 1 – N°1 – Sept 2016
"We embrace the concept of smart cities , as a way to present the environment in which innovation is a continuous process, that turns back to the entire community."
---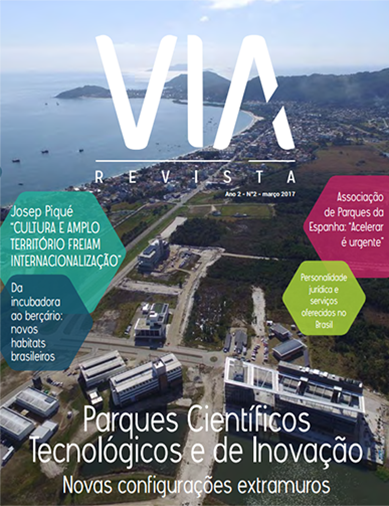 Parques Científicos Tecnológicos e de Inovação: Novas configurações extramuros.
Year 2 – N°2 – Mar 2017
"The second edition of the VIA magazine includes themes such as Scientific Parks; Technology; Scientific Parks and Technology and Innovation Parks. This edition presents studies done by the Via group about definitions, services, legal configurations, communication and sustainability, in addition to articles with references on the subject"
---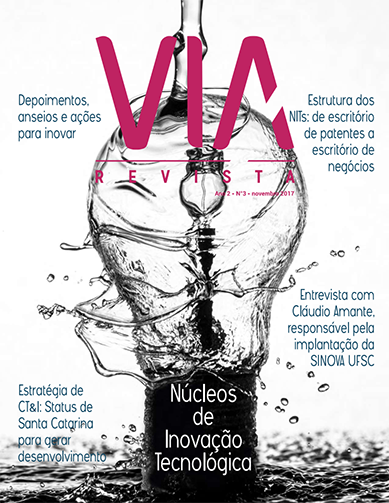 Núcleos de Inovação Tecnológica.
Year 2 – N°3 – Nov 2017
"The NIT becomes an important channel for the constant demand for new solutions presented by companies and simultaneously connecting to knowledge holders (ICTs), which leads to technology transferring "
---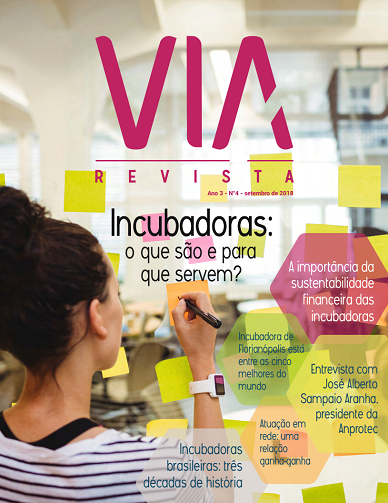 Incubadoras: o que são e para que servem?
Year 3 – N°4 – Sept 2018
"One of the major and most traditional habitats to stimulate entrepreneurship in Brazil, the incubators support the creation and development of innovative businesses"
---