VIA participa da Rede de Monitoramento Cidadão de Florianópolis
Hoje as Redes de Monitoramento Cidadão do Brasil realizaram reunião de alinhamento 🙂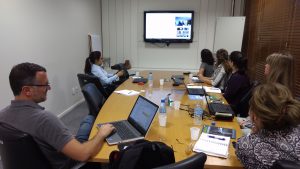 In addition to Florianópolis,,pt,four other Brazilian cities headquarter citizen monitoring networks,,pt,João Pessoa,,pt,Palmas,,en,TO,,en,and Victoria,,pt,with financial support from the Environmental Fund Case,,pt,On or BID,,es,The Inter-American Development Bank's mission is to improve lives,,pt,IDB is a major long-term funding sources for economic development,,pt,social and institutional Latin America and the Caribbean,,pt,The Bank also conducts cutting-edge research projects and provides policy advice,,pt,technical assistance and training to public and private clients throughout the region,,pt,About Environmental Fund CASH,,pt, outras quatro capitais brasileiras sediam as redes de monitoramento cidadão: Goiânia (GO), João Pessoa (PB), Palmas (TO) e Vitória (ES), com apoio financeiro do Fundo Socioambiental da Caixa.
A rede de monitoramento cidadão de Florianópolis tem como propósito acompanhar o andamento de temas que impactam diretamente na qualidade de vida dos cidadãos. Também tem como objetivo fortalecer a cultura de transparência e participação, and promote qualified public debate,,pt,the Constitution of the General Meeting will take place on,,pt,in FIESC headquarters,,pt,Confirm your presence by e-mail,,pt,tatiana@baobasustentabi,,en,lidade.eco.br,,pt,The priority indicators are those set out in the Action Plan and Sustainable Florianópolis will be assessed from the defined strategies and guidelines it,,pt,Fernando Penedo,,en,national coordinator of the project in Baobab - Sustainable Practices,,pt,It states that the initiative will encourage social participation and strengthening democracy,,pt,"With the formation and operation of the monitoring network,,pt, so that foster efficiency in public administration and encourage the channeling of public and private resources to priority sectors,,pt,promoting sustainable development of the city,,pt,the workshop launch of the network will be held on,,pt,The Constitution of the General Meeting will take place at 14h in FIESC headquarters,,pt,Auditorium Milton Fett - Rod,,pt,– Itacorubi,,en,Florianópolis - SC,,pt,and the solemn session presentation to society to,,pt,at the same place,,pt,Both events will be attended by civil society organizations,,pt,private initiative,,es,media and academia,,pt,To carry out the monitoring work of the city's issues,,pt, promovendo o desenvolvimento sustentável da cidade.
in Florianopolis, o lançamento oficinal da rede será realizado no dia 24 de abril! A Assembleia Geral de Constituição ocorrerá às 14h na sede da FIESC (Auditório Milton Fett – Rod. Admar Gonzaga, nº 2765 – Itacorubi, Florianópolis – SC), e a sessão solene de apresentação para a sociedade às 19:00h, no mesmo local. Os dois eventos contarão com a participação de organizações da sociedade civil, iniciativa privada, meios de comunicação e academia.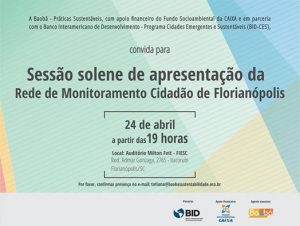 Para realizar o trabalho de acompanhamento dos temas da cidade, Monitoring the Network will work with a list of,,pt,indicators distributed in different areas such as security,,pt,competitiveness of the economy,,pt,urban inequality and land use,,pt,The priority indicators are those set out in,,pt,Sustainable Action Plan Florianópolis,,pt,and will be assessed from the defined strategies and guidelines it,,pt 137 indicadores distribuídos em diferentes áreas como segurança, energia, mobilidade, competitividade da economia, desigualdade urbana e uso do solo. Os indicadores prioritários são os que constam no Plano de Ação Florianópolis Sustentável e serão avaliados a partir das estratégias e diretrizes definidas nele.
The following two tabs change content below.
Equipe de pesquisadores com foco na transformação do conhecimento de forma tangível e utilitária para a sociedade, governo e empreendedores, through education, research and extension. Atuamos de forma colaborativa e em rede, conectando pessoas e organizações ao nosso propósito.
Latest posts by VIA Estação Conhecimento (see all)