Oficina de arte no centro histórico resgata a memória cultural de Florianópolis
Véspera de feriado e temperatura baixando na ilha, mas em espírito criativo e inspirador, Movement Urban Traces art workshop was held under the theme "The island that dwelleth in you" and tried to rescue the city's memory in artistic activity with seniors on Saturday,,pt,A few dozen islanders gathered to express,,pt,through art,,pt,what they believe is the true face of the city of Florianópolis,,pt,The purpose of the workshop was to provoke and record the cultural memory that the elderly have the place where you live,,pt,enabling the historical rescue,,pt,The memories,,pt,feelings,,pt (29/04). Algumas dezenas de moradores da ilha se reuniram para expressar, por meio da arte, aquilo que acreditam ser a verdadeira face da cidade de Florianópolis.
.
O objetivo da oficina foi provocar e registrar a memória cultural que o idoso possui do lugar onde vive, possibilitando o resgate histórico. As lembranças, sentimentos, suggestions and wishes of the participants were expressed in works of art,,pt,evidencing,,pt,the love that you have for the city,,pt,See the video below the synthesis of the participants' perception,,pt,The panels created by the elderly will be exposed during this week at the Museum School Catarinense - MESC,,pt,The activity was designed and executed by the art group and movement of Graphite,,pt,which involves architects,,pt,artists and other professionals and students,,pt,all volunteers passionate about the cause,,pt,Your goal is consistent with the mission of the Urban Traces,,pt,which is to carry out actions to redevelopment of public spaces in the city,,pt,improving the urban culture and the quality of life of its inhabitants,,pt, evidenciando, principalmente, o amor que se tem pela cidade! Veja no vídeo abaixo a síntese da percepção dos participantes:
Os painéis criados pelos idosos estarão expostos durante essa semana no Museu Escola Catarinense – MESC.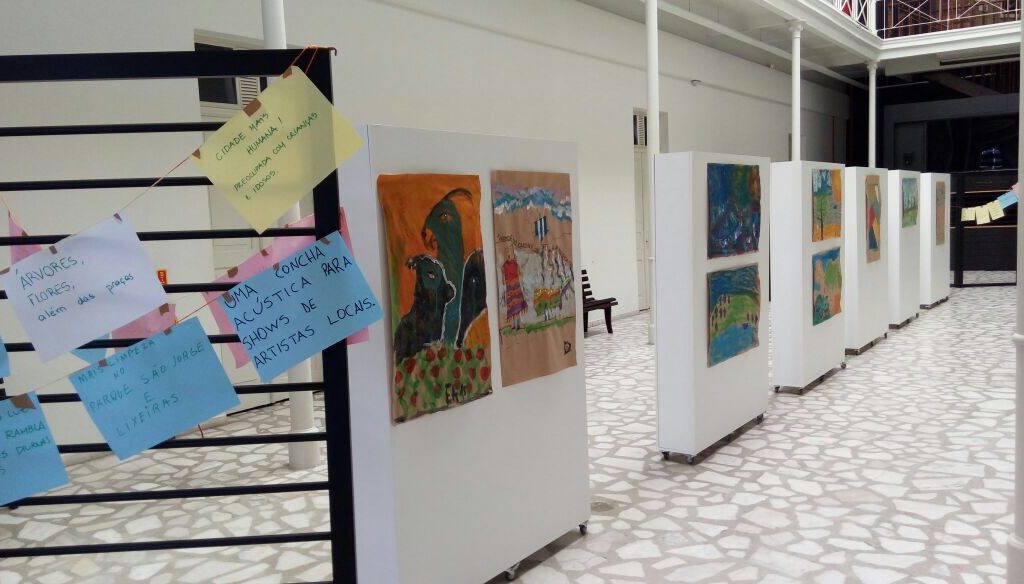 A atividade foi idealizada e executada pelo grupo Arte e Grafite do movimento, o qual envolve arquitetos, artistas e outros profissionais e estudantes, todos voluntários apaixonados pela causa. Seu objetivo vai ao encontro da missão do Traços Urbanos, a qual consiste em realizar ações para requalificação dos espaços públicos da cidade, melhorando a cultura urbana e a qualidade de vida de seus habitantes
According to visual artist and art group coordinator and MTU Graphite,,pt,the meeting was directed to the elderly because there is a certain lack of jobs for this age group and the event showed good adhesion,,pt,animated and spontaneous participants,,pt,The group now plans to expand the art workshop,,gl,with the schedule set,,pt,Other movement groups are open agenda with the time,,pt,just visit the website of the movement and sign up,,pt,KNOW MORE,,pt,TRACE URBAN,,pt,Jadhi Vincki Gaspar - Undergraduate student in Accounting from UFSC,,pt, Cássia Aresta, o encontro foi direcionado aos idosos porque existe certa carência de trabalhos para essa faixa etária e o evento apresentou boa adesão, participantes animados e espontâneos.
O grupo agora planeja expandir as oficinais de arte, com agenda a definir. Outros grupos do movimento estão com agenda aberta no momento, como: Caminhada Cultural pelo Centro Histórico (06/05) e Caminhada Cultural pelo Centro Histórico (13/05). Para participar, basta acessar o site do movimento e se inscrever.
.
SAIBA MAIS:
.
.
The following two tabs change content below.
Ágatha Depiné
Advogada e pesquisadora apaixonada pelo conhecimento. Dedica-se a pesquisar o conhecimento cívico e sua relação com a participação cidadã, a inovação urbana e o direito urbanístico. Cidadã engajada em movimentos sociais para transformação urbana. Doutoranda e Mestra em Engenharia e Gestão do Conhecimento pela UFSC. agathadepine@gmail.com
Latest posts by Ágatha Depiné (see all)