Entrepreneurs Cocreation seek Lab Team reinforcing
Business Opportunity – entrepreneurs + Health seek new partner with expertise in programming!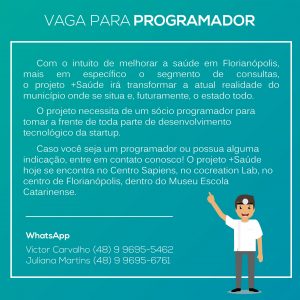 O Saúde surgiu com a ideia de intermediar duas necessidades existentes no ecossistema de Florianópolis e, thereby, supri-las por meio de um market place onde unimos profissionais da saúde ao paciente.
A maior motivação para o Saúde, that, também é a razão para ele existir, é de transformar uma parcela da realidade do segmento de saúde em Florianópolis -o segmento de consultas.
O Saúde é um market place constituído por dois principais stakeholders: profissionais da saúde e pacientes que funcionará através de um site e um aplicativo para agendamento de consultas.
Thus, será possível tornar a saúde mais acessível para as pessoas por meio de intermediações entre o paciente e os profissionais de saúde.
Ficou interessado? Então entre em contato com o Victor ou com a Juliana! 🙂
Victor –> (48) 9 9695-5462
Juliana –> (48) 9 9695-6761
Sapiens Center: Center Sapiens is a project for the revitalization of the west of the historic center of Florianópolis, turning it into a living and a dynamic space. A partir das iniciativas pública e privada visa transformar a área em um polo de inovação voltado ao turismo, gastronomy, Art, design and technology.
Co-creation Lab: O Cocreation Lab é a pré-incubadora de ideias do Centro Sapiens. Um espaço coworking para empreendedores em Creative economy que terá edital de chamada pública aberto semestralmente. From the edict the selected projects will be in the areas of technology , design, Art, tourism and gastronomy, evaluated on criteria and grading by a commission .
The following two tabs change content below.
Equipe de pesquisadores com foco na transformação do conhecimento de forma tangível e utilitária para a sociedade, governo e empreendedores, through education, research and extension. Atuamos de forma colaborativa e em rede, conectando pessoas e organizações ao nosso propósito.
Latest posts by VIA Estação Conhecimento (see all)