Cine Knowledge in Sapiens
VIA Knowledge Center and Sapiens Park LACAM another activity for the community – the project Theater of Knowledge comes democratize access to knowledge through films and documentaries to disseminate the culture of entrepreneurship and innovation.
The project will reach two different audiences – children and youth!
To the children sessions will be held with movies linked to child production. The main objective is to create opportunities in the entertainment Sapiens dependencies stimulating creativity.
To the young sessions will be held with entrepreneurship related movies and innovation as a means of awakening the entrepreneurial culture.
In both cases, Knowledge of Cinema is an opportunity for children and youth, in addition to being placed in an environment of innovation, understand the opportunities it can provide.
The project will be launched tomorrow – on the 16 of October – às 10 hours with much popcorn!
To start the project was the special film produced in selected Sapiens Park – earthworms!
The long Paolo Conti and Arthur Nunes AnimaKing It is the first Brazilian stop-motion and was developed over 5 anos.
Earthworms account the Junior story that is entering the pre adolescence and facing an existential crisis. accidentally dug out of the ground and taken to a distant place, Júnior precisa encontrar um jeito de voltar para casa mas para isso ele precisa impedir os planos de dominação de um terrível tatu-bola.
Ficha Técnica
Direção: Paolo Conti e Arthur Medeiros
Fotografia: Klaus Schlickmann e Philippe Arruda
Tempo de Duração: 82 minutos
Técnicas: Animação Stop-Motion
Ano de Lançamento: 2013
O lançamento será realizado no projeto DOMINGO NO SAPIENS!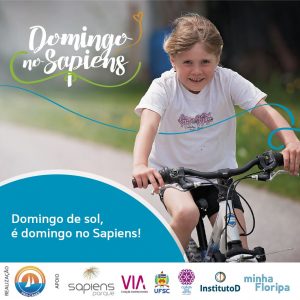 Para participar basta enviar uma mensagem com seu nome e de seus acompanhantes com a frase EU SOU DOMINGO NO SAPIENS no face do Sunday at Sapiens! São apenas 60 lugares.
Para as próximas sessões fique ligado na nossa página e na nossa Calendar! 🙂
The following two tabs change content below.
Equipe de pesquisadores com foco na transformação do conhecimento de forma tangível e utilitária para a sociedade, governo e empreendedores, through education, research and extension. Atuamos de forma colaborativa e em rede, conectando pessoas e organizações ao nosso propósito.
Latest posts by VIA Estação Conhecimento (see all)